A building for the past and present
Victoria Hall is located at the centre of the village of Saltaire, a UNESCO World Heritage Site since 2002.
Saltaire is named after philanthropist Sir Titus Salt. In the 1850's, Sir Titus purpose built the village to house the workers of his nearby mill. This revolutionary development came at a time when all the major surrounding cities of Bradford, Leeds and Manchester were slums. His model village led the way for major regeneration, not only within these cities, but the world over.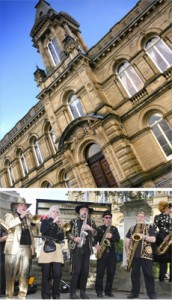 A centre for recreation, culture and learning
Inspired by opulent 15th century architecture and commissioned by Sir Titus Salt as a centre for recreation, culture and learning for the village inhabitants, the hall opened in 1869, known as the Victoria Hall & Institute.
The building housed libraries, meeting and games rooms and a large dance hall with a fully sprung floor. The hall was, and still is, perfectly suited to a huge variety of events such as weddings, meetings, exhibitions, festivals, concerts and lavish balls to name a few.
Historically, Sir Titus would host an impressive array of speakers such as historian John Ruskin, Prime Minister Benjamin Disraeli and the great explorer David Livingstone.
Charles Dickinson was famously booked to speak shortly before his unexpected death in 1870. More recent visitors have included ex-Prime Minister Tony Blair, Sir Paul McCartney and HRH Prince Charles.
Anybody who was anybody in the Victorian world travelled far and wide to visit and use the hall. To this day the hall still attracts visitors from across the globe.
The hall today
Today, in addition to the variety of special private celebrations and weddings, the hall is also home to many established events such as the Saltaire Festival, Day of Dance, CAMRA Bradford Beer Festival, Saltaire Arts Trail along with regular weekly community classes such as yoga, ballroom dancing, karate and Zumba.
For more information on hiring the rooms or venue, please visit our events and classes page or useful links page.